CENTRAL LANCASHIRE LEAGUE WINNERS 2012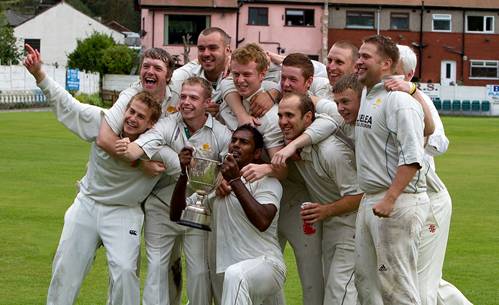 Expectations for 2012 at the club were relatively high. Mid table finishes in the previous 2 seasons showed that the club had the basis of a strong side. However with the return of James Rawlinson after a one season stint as professional at Settle CC and the Barker brothers from Todmorden it meant that the amateur strength was good. Coupled with this was the first time visit of young Kiwi quickie Hamish Kyne from Wellington as overseas amateur, and most important of all the recruitment of professional Ranil Dhammika, a left arm spinner who could also bat from Sri Lanka.
The season began at Rochdale on a cold cloudy day. Dhammika was unable to get a flight for the first match and so Azar Zaidi, Accrington's Pakistani spinner all-rounder was engaged. Rochdale also has a sub pro South African Gary Park and it was he who top scored with 88 in Rochdale's challenging total of 203. Wickets were shared between Kyne with 3, Zaidi 3 and Stevie Barker 2. Walsden's replay began well with Rawlinson initially with Jake Hooson and then Matt Dawson advancing the score to 128. Unfortunately Zaidi failed and when Rawlinson was out for 68 the pressure of the run chase proved too much and Walsden collapsed to 173 all out. Not a great start.
Walsden's next game was at Ashton who have propped up the league in recent seasons. Walsden again started well with Rawlinson scoring a superb 76, Hooson 27 and Dhammika 28 all contributing well. Unfortunately the tail didn't wag and a total of 165 was challenging but certainly not unattainable. As it happens the total was far too big with Shackleton 5 – 19 and Dhammika 4 – 41 blowing Ashton away for 91.
When the rain relented, early May saw Littleborough visit Walsden. All Walsden's top order contributed but a rapid partnership of 107 between Dhammika 85 not out and Nick Barker 39 not out took Walsden to a very good score of 255 for 3. Walsden made early in roads into the Littleborough innings when overseas amateur Williams was brilliantly run out by keeper Dawson and then possibly the catch of the season saw Shackleton catch Australian professional Clinton Perren off his own bowling for 20. Littleborough never recovered from these early setbacks and were eventually 129 all out. Shackleton taking 3 – 19 and Dhammika 4 – 12 off ten overs.
Walsden then visited the unpredictable Unsworth. Walsden won the toss and elected to bat on a damp wicket and were quickly in big trouble at 14 for 4. For the first time of many during the season Walsden's strength in depth showed with a match winning partnership between Kristian Halstead 54 and Nick Barker 49 taking the score to 136 before some late hitting advanced the score to 150 – 8. Unsworth were quite simply blitzed by Dhammika 5 – 18 and Stevie Barker 4 – 29 and were bowled out for 48 off 24 overs.
Royton who had started well were the next visitors to Scott Street. Captain Dewhirst again won the toss (as he did for most of the season) and elected to bat. A good start by Rawlinson 76 and Hooson 43 and good contributions from Dawson 27, Nick Barker 23 not out and Halstead 22 not out meant that Walsden set a challenging 217 – 4. Again Dhammika 3 – 59 and Stevie Barker 5 – 25 were the principal reason that Royton fell away to be 161 all out after a promising start.
The first round of the Wood Cup at Walsden saw Walsden demolish a poor Ashton side. Walsden scored a mammoth 268 with 17 year old Jake Hooson scoring a chanceless superb 110 not out. Kyne was the leading Walsden bowler with 4 – 19 and Ashton were 100 all out.
Another tricky league fixture followed with Clifton visiting Scott Street. A good team batting effort with Rawlinson top scoring with 65, Dawson 49 and Hooson 42 saw that Walsden again achieved a good total of 233 – 9. Good bowling from all Walsden's senior bowlers saw Clifton dismissed for 110. Shackleton took 3 wickets, with Kyne, S Barker and Dhammika 2 apiece.
Unpredictable Oldham were the first visitors to Walsden in June. They won the toss and started quite well, but the introduction of Dhammika to the attack charged things quickly and his 6 – 38 off 16 overs meant that Oldham were restricted to 168.
The loss of both Walsden openers put a bit of early pressure on, but Dawson with 78 not out and Josh Gale an excellent 29 not out saw Walsden home to nervy finish after Dhammika had run himself out 2nd ball, and both Barkers had gone cheaply.
Another Wood cup interlude saw reigning champions Norden visit Scott Street. Walsden slumped to 17 – 3 but Nick Barker with 70 and good contributions from Dhammika 29, Halstead 30 and
Stevie Barker 22 not out led Walsden to a reasonable 202. Unfortunately Walsden could not remove Nordens South African pro Mark Price until very late in the game and his 109 was the main reason that Norden won in the last over of the game.
With only the league now left Walsden's next game was on the low slow track of Monton. Walsden's very slow innings was dominated by a very patient 47 from Dawson and 31 from Hooson, with important late runs coming from Shackleton and Kyne. This total proved to be far too much for Monton with Dhammika taking 6 – 27 off 12 overs well supported by Shackleton with 3 – 32 off 10 overs. Monton were 64 all out.
The last match in June saw Crompton visit Scott Street. Skipper Dewhirst invited Crompton to bat. Kyne who was starting to show real promise as the wickets slowly improved sadly dislocated his shoulder and was forced to return home to New Zealand. His injury meant a long spell for Dhammika who bowled 24 overs and picked up 6 – 54. Crompton scored a challenging 186. Walsden were again in big trouble at 20 – 3 but another superb partnership, this time between Nick Barker 71 and Dhammika 62 not out saw Walsden to victory in the gathering gloom.
Walsden now topped the league but with no overseas amateur going on to win the league would be a real challenge. The loss of Kyne meant a change in tactics with Dhammika opening the bowling in most games and being supported principally by Shackleton and Stevie Barker.
The first game in July saw Unsworth visit Walsden. Another superb spell from Dhammika, 20 overs 6 – 36 well supported by S Barker 17 overs 3 – 50 saw Unsworth bowled out for only 104. Walsden were cruising at 78 – 2 but the loss of Dawson and Nick Barker brought about a collapse of mega proportions and saw Walden reduced to 86 – 9. Cue the Gale brothers, Joe batting at No. 11 scored a magnificent 17 not out, whilst brother Josh played patiently for a crucial 4 not out. This win again proved the value of strength in depth.
Mid July on another cloudy day (when weren't they) at Walsden saw the second half of the season start with the return fixture against Rochdale, this time at Walsden. Rochdale scored a useful 170 with Sri Lankan pro Warnapura top scoring with 43. Dhammika taking 5 – 64 off his 18 overs. Walsden had a steady but slow start against a very accurate Rochdale attack. Rawlinson 35 and Hooson 24 set a platform but the planned increase in run rate never happened and Walsden lost wickets steadily to be dismissed for 148. This was only their second loss of the season (and their last loss), both to Rochdale.
The return fixture at Littleborough's Hare Hill ground was a painstaking batting effort by Littleborough. Stevie Barker removed the dangerous Perren for only 1 and Littleborough then batted 50 overs to reach 99 – 9. The only highlight was Dhammika's first hat trick in senior cricket. Walsden's reply was relatively straight forward with Dawson 36, Hooson 12 and then Nick Barker 16 not out and Josh Gale 9 not out seeing Walsden home with 23 overs to spare. Doing the double over Littleborough is always something to celebrate and the clubhouse was a happy place that night.
Another interesting fixture towards the end of July saw Walsden travel to Clifton without the Barker brothers and Harlow who were at a wedding. Clifton won the toss and batted, but another magnificent spell of bowling by Dhammika of 23 overs 4 – 23 restricted Clifton to 124 with Shackleton claiming 3 wickets and Dewhirst and Hanson one apiece. In reply the openers did the trick for Walsden with an opening stand of 73. Hooson scored 31 and Rawlinson an excellent 40 before Josh Gale 15, Dhammika and Halstead completed the job.
Third placed Milnrow visited Scott Street for the penultimate game in July. Left arm spinner Barbar Naeem was at this stage the leading wicket taker in the league, but he was dominated by a magnificent knock of 99 by Matt Dawson (who sadly ran himself out going for his hundred), well supported by Rawlingson 50 and Dhammika 37 gave Walsden a very useful total of 226. Without Shackleton on holiday the attack was carried by Dhammika and Stevie Barker and both performed well. Dhammika bowled 20 overs 7 – 45 and Barker 18 overs 3 – 87. Milnrow never threatened Walsden's total after Naeem was well caught by Nick Barker and were dismissed for 165.
29 July 2012 was arguably the first time when the championship became a real possibility. Both Heywood and Norden were well within reach of Walsden's points total at this stage and so the game at Norden was of critical importance. Another rain affected start meant a 22 over per side game. Norden won the toss and professional Price and ex Lancs player Fitton smashed the Walsden attack to all parts of the ground. It was only when Price was brilliantly caught by Dan Howley off Nick Barker that Walsden exerted some control. Norden however still scored 179 off their 22 overs with Nick Barker and Dhammika both claiming 3 expensive wickets apiece.
Walsden's reply started disastrously when Dhammika who was promoted to open was bowled off the first ball he received. Rawlinson played a very useful innings for 29 which brought together Dawson and Nick Barker. A circumspect start looked as though Walsden would be hoping to achieve 1 point by scoring 134 or 75% of Norden's score. After 15 overs Walsden were 101 for 2 and after 18 were 126 for 2. The explosion then began with Barker hitting 4 sixes and 5 fours and Dawson 2 sixes and 9 fours. The nineteenth over went for 18, the twentieth for 16 and the twenty first over for 23. Walsden had incredibly won without needing the last over. Dawson scored 79 not out off 55 balls and Nick Barker 61 not out off 33 balls. Moving into August the league was now a real possibility with only Heywood being realistic rivals.
Middleton who had started the season well were the first visitors in August on another cloudy day at Scott Street. Middleton's innings revolved around South African professional Mike Smith who scored 84 out of Middleton's all out innings of 190. Dhammika bowled a brilliant 24 overs and took an amazing 9 – 69 with Harlow taking the other wicket. Rawlinson and Hooson began well and after Hooson had departed Rawlinson 40 and Dhammika 52 not out and Josh Gale 11 not out saw Walsden home in 39 overs.
Walsden's next visited lowly Werneth at the Coppice. After a sound but slow start by Rawlinson 50 and Hooson 25, the acceleration came initially – from Dawson 21 and then Dhammika 60 not out off 58 balls and Nick Barker 43 not out off 34 balls to set a challenging 225 – 3. Werneth had no answer to Dhammika who bowled 21 overs 6 – 44 and were eventually dismissed for 123.
Walsden then entertained Monton and Weaste in Mid-August who won the toss and decided to bat. Dhammika bowled well with 4 – 44 off 20 overs and Jake Hooson made his first real contribution with the ball taking an excellent 4 – 15 off 6 overs. Monton batted 40 overs and were eventually bowled out for 137. After both Walsden openers were dismissed early Dawson played a magnificent innings of 81 not out well supported by Dhammika 31 and Walsden won within 33 overs.
After the top of the table clash at Heywood had been rained off another crucial game saw Walsden entertain Norden who were seeking to obtain revenge for the recent defeat. Norden batted first and when Dhammika dismissed Price for 27 Norden's hopes of a really big score evaporated and they managed to score 165 all out off 49 overs. Dhammika taking 7 – 63 off 25 overs and Stevie Barker 3 – 75 off 17.5 overs. Rain early in Walsden's reply meant that Walsden needed to score 118 off 23 overs. Both openers went relatively cheaply but a superb 53 not out by Dawson well supported by some brilliant hitting by Joe Gale who quickly scored 16 not out saw Walsden home as darkness approached.
Due to the poor weather two of the first games of the season had been rained off and rearranged for the last 2 weekends of the season meaning that going into September Walsden still unusually had 5 games to negotiate, the last one being Heywood who at this stage were only 8 points behind Walsden. The title for them was still very much a reality.
The first game in September saw a revamped Ashton visit Walsden. Ashton managed 113 all out off 38 overs with Dhammika taking his mandatory 5 wickets, well supported by Shackleton and Hooson with 2 wickets apiece. Ashton bowled well and after Rawlinson and Dawson had scored good 20s the team had a bit of a wobble losing 4 cheap wickets. Fortunately Nick Barker hung around for a resolute 22 not out to see Walsden home for the loss of 7 wickets.
Walsden then visited Oldham, another revamped side at the Pollards ground. Oldham got off to a flyer and were 80 for 2 off only 14 overs. Dhammika slowly took control and his 15 overs 7 – 42 meant Walsden were chasing 164. Fortunately Rawlinson 32, Dawson 68 and Dhammika 41 not out all batted superbly for Walsden to see them home in 40 overs for the loss of 5 wickets.
With three games to play and Heywood still only 8 points behind, Walsden visited Radcliffe who during the season have had a very good bowling attack spearheaded by Cheetham the ex-Lancashire bowler, but also a poor batting side. Fortunately this was also the case again on a sunny (yes sunny) day at Radcliffe on 9 September 2012. Dewhirst won the toss again and batted. Unfortunately at 28 – 4 and 41 – 5 this looked as though it might not be the right decision. However not for the first time in the season Walsden showed themselves to be a team with real depth and fight. Halstead with 21, Josh Gale 16, Stevie Barker 13 and then a brilliant belligerent 44 not out off 44 balls by Joe Gale well supported by skipper Dewhirst saw Walsden to a decent total of 144. Two early wickets from Shackleton and then 5 – 32 by Dhammika and a miserly 3 – 9 off 8 overs by Stevie Barker saw Radcliffe dismissed for 73.
Walsden now needed 1 win from the final 2 games of the season. As chance would have it Walsden again played Radcliffe but at Walsden on another sunny day in Mid-September. Dewhirst inserted the opponents and Dhammika demolished the early order to leave Radcliffe reeling at 20 – 5. Some lusty hitting from Ben Johnson saw a brief recovery but after he was bowled by
Stevie Barker, Dhammika took complete control to end with the brilliant figures of 11 overs 8 – 39 with Barker taking the other 2 wickets. Walsden needed 95 runs to win the league for the first time since 1964.
After an early scare when Hooson was dismissed by the pacey Cheetham for nought, Rawlingson 29 and Dawson 22 saw the score to 63 before Dhammika 17 not out and Nick Barker 11 not out saw Walsden to the championship off 31.4 overs. The celebrations then began.
The final match at Walsden on 16 September 2012 against Heywood who finished runners up was rained off when Heywood who chose to bat first were 74 – 1 off 10 overs. Nobody cared. The title and the trophy were by this time Walsden's and a few days of memorable celebrations followed for players, ex-players and supporters. The title victory was made all the more credible by the fact that all 10 players other then the pro and Kyne who played only a third of the season were born and brought up within sight of Walsden's ground.
The statistics for the season make good reading, Walsden played 23 out of the 30 scheduled league games and won 21 of them with only 2 losses through the entire league season. Their final points total of 118 beat runners up Heywood by 8 and third place Milnrow by 20.
On the batting front Matt Dawson scored 812 runs at an average of 40.6 runs per visit, Nick Barker 495 at an average of 38.1, Ranil Dhammika 589 at 34.6, James Rawlinson 738 runs at 29.5 and Jake Hooson 537 at 24.4. All figured prominently in the league averages with Dawson and Barker finishing 3rd and 4th respectively in the amateur batting averages.
On the bowling front Ranil Dhammika was easily the best bowler in the league taking a remarkable 119 wickets at 7.91 runs per wicket. This is a Walsden club record in overs cricket beating
Ces Wright's 116. Stevie Barker was well placed in the league averages with 45 wickets at 19.1 and Jamie Shackleton also had an excellent season taking 30 wickets at 20.2.
As impressive as these stats are it was the strength of Walsden's entire team lead superbly by the astute and selfless Dewhirst that brought the title to Walsden. Walsden were staring down the barrel on several occasions during the season but the lower order held their nerves to hold on and win the game. Walsden were also fortunate to have some very good second xi players to bring in when occasionally they were needed. This was demonstrated by the fact that Walsden also won the aggregate trophy in 2012 for the highest number of points by the first and second xi's combined. Amazingly the 3rd xi also did the double. The club were also fortunate to have a hard working ground staff who worked tirelessly throughout the year in covering wickets and then getting the ground ready for play in often inclement weather. More games would have been lost to the weather without them.
Finally special mention must be made to Walsden's catching and fielding which was of the highest quality throughout. Catches win matches is an old cricketing adage and in this season Walsden fielded brilliantly and did not drop many catches. They deserved their title of Central Lancashire League Champions for 2012.
The detailed statistics as compiled by Mick Watson the Walsden scorer are as follows:
BATTING
NAME INS NO HS RUNS AVE
M Dawson 24 4 99 812 40.60
N Barker 21 8 71 495 38.08
R Dhammika 24 7 85 no 589 34.65
J Rawlinson 25 0 76 738 29.52
J Hooson 23 1 110 no 537 24.41
K Halstead 13 3 54 155 15.50
Josh Gale 16 6 29 no 124 12.40
S Barker 12 3 22 no 68 7.56
Also batted:
Joe Gale 7 3 44 no 98 24.50
J Shackleton 6 1 15 no 32 6.40
C Dewhirst 7 6 4 no 8 8.00
H Kyne 6 1 12 25 5.00
M Harlow 5 0 11 23 4.60
S Hanson 1 1 0 0 0.00
A Zaidi 1 0 15 15 15.00
BOWLING
NAME OVERS MAIDENS RUNS WKTS AVE RPO
R Dhammika 391.1 86 951 119 7.99 2.43
S Barker 236.2 29 840 45 19.12 3.55
J Shackleton 166.5 30 646 30 20.19 3.88
Also bowled:
H Kyne 56.5 8 206 12 17.17 3.65
J Hooson 35.2 3 229 7 32.71 6.51
C Dewhirst 15.0 1 76 2 38.00 5.07
N Barker 28.4 0 151 7 21.57 5.32
A Zaidi 16.5 2 75 3 25.00 4.55
Joe Gale 19.0 0 96 3 32.00 5.05
S Hanson 5.0 3 15 1 15.00 3.00
M Harlow 22.0 0 85 1 85.00 3.86
The highest wicket partnerships were as follows:
WKT RUNS BATSMEN OPPONENTS
1st 95 J Hooson J Rawlinson Ashton H Cup
2nd 106 J Rawlinson M Dawson Milnrow H
3rd 144 M Dawson N Barker Norden A Unbroken
4th 131 R Dhammika N Barker Crompton H
5th 122 N Barker K Halstead Unsworth A
6th 60 M Dawson S Barker Oldham H
7th 18 N Barker S Barker Norden H Cup
8th 26 S Barker Joe Gale Radcliffe A
9th 35 Joe Gale C Dewhirst Radcliffe A
10th 22 Josh Gale Joe Gale Unsworth H
With the bat James Rawlinson, Matt Dawson and Ranil Dhammika all scored 5 half centuries apiece, whilst Jake Hooson scored the only century with 110 not out in the cup versus Ashton. Nick Barker and Matt Dawson hit 14 sixes apiece whilst Ranil Dhammika hit 12.
On the bowling front the best figures of the season were 9-69 by Dhammika versus Middleton at home and he took 5 wickets or more in an astonishing 15 of the 25 matches (including cup) played. He also did the hat trick versus Littleborough away.
On the catching front Ranil Dhammika caught 14 catches with Nick Barker and James Rawlinson 10 each. Matt Dawson had 26 catches and 12 stumpings behind the wicket.
Finally the highest score of the season was 268 for 5 versus Ashton at home in the Wood Cup and 255 for 3 versus Littleborough at home in the league.
C Barker (November 2012)
ARTICAL BY DONALD RIGG, SEPTEMBER 2012
I would like to congratulate the players and officials of Walsden Cricket and Bowling Club on becoming champions of the Central Lancashire League this season by a margin of eight points.
This is a magnificent achievement by a village club against much larger towns, such as Rochdale, Middleton, Ashton and Oldham.
What is even more remarkable, and a credit to the committee and coaches at the club, is that this has been achieved by players who, with the exception of the club professional, are all local, who were born, or live, within one mile of the club, including three players under the age of 18.
Unlike other clubs they have achieved this without the benefit of an overseas amateur.
Every player on the side has contributed to the success and has played an important role when the occasion has demanded it.
The first six batsmen have contributed nearly 3,000 runs and have backed up a top quality professional bowler, who has taken 119 wickets. The coaches deserve a pat on the back for the many successes achieved this year.
The impetus of the last league win, in 1964, enabled the club to prosper with a new bar and changing facilities, and it is hoped that this year's achievement will provide a further stimulus.
While the club has several loyal sponsors the financial demands on the club, to enable necessary ground improvements and practice facilities to be provided, means more financial support is needed. If anyone wishes to help in any way please do not hesitate to contact me or the club. The cost of running a club is not cheap and any contribution would be welcome.
The club provides extensive junior coaching and puts out teams at under 11, under 13, under 15 and under 18 age levels, in addition to a first, second and third eleven, and new players are always welcome.
I feel that this is an immense contribution to the local community.
Donald Rigg, Walsden CC
president, Blenheim Street,
Hebden Bridge.