Pennine Cricket League Premier Division Champions and Wood Cup Winners
'The Double' Season 2016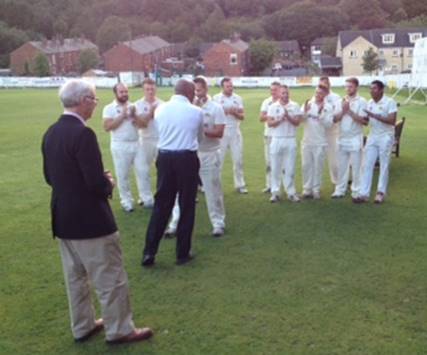 After an excellent but trophyless season in 2015, expectations were good for 2016 in the newly formed Pennine Cricket League (PCL). However both Littleborough and Norden looked on paper to have very useful teams, along with possibly one or two former Saddleworth league teams who were largely unknown quantities.
Walsden's open fixture was a tricky encounter against Monton and Weaste at Walsden on Sunday 24 April 2016. Walsden won the toss and skipper Rawlinson elected to field which looked like it may have been a mistake when Monton cruised to 97-2 with the hard hitting Chapman scoring 70. However, the introduction of pro Umesh quickly changed the game and Monton limped to 160 all out off 36 overs with Umesh and Stevie Barker taking 3 wickets apiece and Josh Gale 2 . Walsden's reply started badly when Matt Dawson was dismissed for 0, however, a solid 45 from Nick Barker, 30 from Umesh and 32 not out by Joe Gale saw Walsden home off just 33 overs with 5 wickets down.
With the second weekend of the season being totally rained/snowed off the 2 scheduled games versus Rochdale and Norden were rearranged for the end of August/early September 2016.
In early May Walsden visited Royton's Paddock Ground. Royton won the toss and elected to bat which quickly paid dividends as professional Khurana scored a classy 84 and Australian overseas player Bongers 43. Late order runs meant that Walsden were chasing 229 off their 50 overs. Josh Gale and Stevie Barker were the pick of the bowlers with 3 wickets each. A reasonable start by Walsden's openers Hooson 14 and Gale 46 was then consolidated by another solid innings from Nick Barker of 68. Unfortunately, with Walsden cruising rain intervened and Walsden's target was reduced by only 16 runs to 213 but with the loss of 7 overs. An excellent run chase left Walsden needing only 6 off the last over bowled by pro Khurana. Unfortunately, an excellent over by him saw Walsden score only 5 runs with Umesh scoring 43 not out but not able to achieve the winning runs.
On the 8th May 2016 Werneth visited Scott Street in the first round of the Wood Cup. Werneth were dismissed for only 115 with Umesh taking 5 wickets and Jamie Shackleton 4. Walden cruised to victory off 23 overs with Nick Barker 43 not out and James Rawlinson 33 not out.
The next league game for Walsden was at Saddleworth's compact Well ith Hole ground. Saddleworth batted first and scored a challenging 169. Stevie Barker and Umesh with 3 wickets each were the most successful bowlers. Walsden's reply started badly with Dawson falling for a duck but a steady 41 from Jake Hooson along with contributions from most of the top order saw Walsden home off 30 overs.
A brief respite from league action followed as Walsden visited Littleborough in the first round of the National ECB Cup. Littleborough scored 196 off their 45 overs with Chris Schofield contributing 72. A superb run chase saw Walsden home with only 2 balls to spare with Josh Gale 62 and Stevie Barker 51 not out being the main contributors.
On the 21st May 2016 Austerlands visited Scott Street but rain finished the game with the visitors on 47 for 2.
Walsden's next game was at Crompton's Glebe Street Ground. An excellent 70 by Josh Tolly was the main contributor in Crompton's 169 with Josh Gale being Walsden's best bowler with 15 overs 4 for 49. After a poor start Walsden were 7 for 2 but 36 from Josh Gale, 28 from Rawlinson, 35 from Umesh and an excellent 40 not out from Joe Gale meant that Walsden attained their target in the 42nd over.
On 29 May 2016 Royton visited Walsden in the second round of the Wood Cup. Excellent bowling in particular by Jamie Shackleton with a superb 10 overs 4-19 restricted Royton to only 138. In reply Josh Gale with 66 and James Rawlinson 41 with a short cameo from Joe Gale saw Walsden win off just 29 overs.
Early June saw Glodwick at Walsden. A brilliant 141 not out (150 balls inc 12*4s and 5*6) from Jake Hooson, 41 from Nick Barker and a quick fire 102 from Umesh resulted in Walsden scoring their limited overs record high score of 337-3 off their 50 overs. Jake's score was the highest score by a Walsden amateur player in limited overs cricket. A superb knock from a very good young cricketer. The excellent Shackleton with4-42, Umesh 3-66 and 2-6 at the end by Nick Barker ensured that Glodwick never got close and they were dismissed for 178 off 40 overs.
After their two semi final matches in recent years in the Lancashire Cricket Board Cup Walsden were hopeful of more success in 2016. Unfortunately, a rainy day at Ramsbottom and the dreaded bowl out meant the end of Walsden's interest in this trophy for this year. The League game at Littleborough the day before was also abandoned without a ball being bowled.
Hyde Cricket Club were the next visitors in mid June to Walsden in the ECB National Cup Round 3. Some excellent batting from Walsden with Jake Hooson 57, Josh Gale 44, Stevie Barker 44 and a brilliant late innings knock of 52 by Cameron Hanson saw Walsden to 256 off their 45 overs. Hyde's run chase was up with the rate right up until the last over which was bowled very well by Joe Gale leaving Hyde 13 short of their target. Josh Gale was the pick of Walsden's bowlers with 3-33 off his 9 overs. A superb game of cricket played by 2 very good sides on a lovely sunny day (for a change).
The next visitors to Scott Street were Middleton who were bundled on for only 118 with Umesh taking 6-27 off his 10.5 overs. Walsden didn't have it all their own way in reply and struggled to 121-7 with Nick Barker scoring 16, James Rawlinson 22 and unbeaten 24 from Matt Dawson saw Walsden collect another 5 points.
Walsden visited Bamford on 19 June 2016 in the Regional Final of the ECB National Cup. Walsden were 119-7 with Nick Barker top scoring with 36 on a difficult wicket when rain ended play for the day. Because Walsden and Bamford couldn't agree on an alternative date to play Walsden were forced to concede the tie.
In late June Walsden visited Greenfield for another tricky game. Greenfield set what looked to be a challenging total of 202-6 off 40 overs (again rain affected) with Aussie Pro James Muirhead scoring a very good 130 not out. However, a superb opening partnership of 176 between James Rawlinson 91, and Josh Gale 88 not out saw Walsden home with 8 overs to spare.
In late June one of the main league rivals Norden visited Walsden in the 3rd round of the Wood Cup on another poor weather day. Walsden scored a very challenging 224-8 off their 50 overs with Nick Barker scoring an excellent 93 well supported by Matt Dawson 25, Umesh 25 and Cameron Hanson 23. Rain at teatime meant that Norden never started their run chase and the game was abandoned. Walsden unusually won the bowl out, a rare but very good event.
Another rain affected game at Walsden in early July saw Walsden score a very good 162-3 off only 20 overs versus Monton with Jake Hooson 50 not out and Umesh 58 not out being the main contributors. Monton were very much in the chase with their hard hitting Pro Jonkers on 89 not out off only 14 overs when more rain meant an end to the proceedings and another draw.
More rain in early July saw Nordens League visit to Walsden again abandoned in the first innings with Norden on 107-3 off 20 overs.
Walsden's next game was away at Rochdale. Walsden scored a challenging 145-7 off 36 overs (yes, rain affected again) with Nick Barker scoring 41, Stevie Barker 22 not out and Josh Gale 20. Shackleton removed Aussie pro Bosisto early on and Rochdale struggled to 116-6 off their allotted 36 overs with Shack taking 2 wickets and Umesh 4.
On 17 July 2016. Saddleworth entertained Walsden in the semi final of the Wood Cup. Saddleworth batted first on a difficult wicket and excellent bowling saw them dismissed for only 103 for 43 overs. A superb bowling exhibition all round with Umesh and Stevie Barker taking 3 wickets apiece. Saddleworth's attack was very good headed by overseas pace bowler Akram and pro leg spinner Aslam. At 49-6 Walsden's chance of a final place looked very much in doubt until Joe Gale with a brilliant 33 not out and a cameo 10 not out from Callum Rushton saw Walsden to victory. A real nail biter.
A return to League action in late July 16 when Royton visited Scott Street. Royton were largely dependent on Pro Khurana scoring runs and so when Josh Gale bowled him for 54 Royton managed to score 158 all out off 40.2 overs. Walsden's bowling was excellent with Josh being the pick with 4-42. He carried on his excellent work with an unbeaten 77 as Walsden knocked off the required runs for the loss of 3 wickets off only 27 overs.
Next visitors to Scott Street in the League were the high flying Saddleworth team. They posted a challenging 202 all out off 49.4 overs. Umesh was the pick of the bowlers with 6-45 followed by Joe Gale with 3-65. With Saddleworth's excellent attack to cope with this was a challenging score and so it proved to be with Walsden managing to get the required 203 off 49.2 overs for the loss of 8 wickets. Jake Hooson played an excellent anchor role scoring 79 with important contributions from Josh Gale 39, Nick Barker 21, James Rawlinson 24 and a superb 24 not out from Matt Dawson to see Walsden home, just.
In early August Walsden visited Austerland's to play on what could be politely called a 'tricky wicket'. Austerlands batted first and pro Rana compiled an excellent 62 well supported by overseas player Fereira and his fellow opener Rashid. Austerlands were dismissed in the 45th over for 164 with Joe Gale picking up 4 wickets and Umesh 3. Walsden's reply began disastrously with both openers, Josh and Jake being dismissed for 0. Stevie Barker batting at 3 in place of his unavailable brother managed double figures of 14 as did Umesh 15 and Cameron Hanson 15. The tail didn't wag and Walsden were dismissed for just 73 off 26.3 overs. A very poor display.
The Austerlands loss was not the ideal preparation for the Wood Cup Final the next day on 7August 2016 at Rochdale CC versus Rochdale who had beaten a very good Littleborough side in the other semi-final. On a cool, cloudy, but dry day Walsden won the toss and decided to bat on a well prepared (possibly over prepared) wicket. Rochdale's attack with Bux, Harling and pro Bosisto to the fore bowled very well and early runs were at a premium. Josh Gale scored a very good 57 with early contributions from Jake Hooson 12, and Nick Barker 16. Umesh having survived a couple of early catching chances scored a very useful 39 and late contributions from Stevie Barker 13 and Joe Gale 21 helped Walsden to a challenging 192 all out off the last ball of the innings.
Rochdale's reply was looking very ominous at 62 for 0 but the introduction of Umesh and Nick Barker into the attack proved to be the turning point. Umesh dismissed opener Jack Avery for a good 26 but then Nick Barker's slow ball accounted for Aussie Pro Bosisto caught and bowled for an excellent 51. At 148-7 Rochdale were struggling but late runs from Harling and Tom Avery meant that Rochdale needed 17 off the last nail biting over which was bowled by Umesh. Avery managed to score 11 off the over in fading light but Rochdale ended up 6 runs short of their target. Walsden's bowling was excellent with Umesh 5-50 off his 10 and Nick Barker 1-27 off his 10 overs being the pick of the bowlers. A very good and exciting game played in an excellent spirit by both sides. Umesh was deservedly named man of the match. A great night at the club ensued.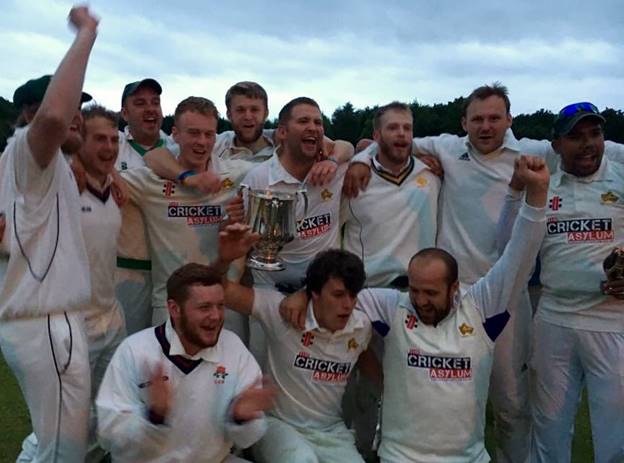 A return to league action on 13 August 2016 saw Crompton visit Scott Street. Crompton in recent years have been a dangerous side with some very good players. Opener Tolly set about the Walsden attack and scored an excellent 73 well supported by overseas amateur Louis 40 and Ste Wright 35. Late order runs took Crompton to 222 off their allotted 47 overs with Stevie Barker and Joe Gale picking up 3 wickets apiece. Walsden's reply was a disaster. With Nick Barker again unavailable Walsden's top order were blown away. Only Umesh managed double figures of 15 in the entire innings and Walsden were dismissed for only 63 off 16 overs. Si Wright had the excellent figures of 8-6-36 well supported by Zulfiqar 8-3-26. A very poor show with much improvement needed.
Another rainy day at Glodwick on 20 August 2016 meant that play was abandoned with no play possible.
Pre season favourites for the league, Littleborough visited Scott Street in late August but were without the outstanding Aussie batsman Clinton Perren who was on holiday. Walsden batted first and at 30-4 were in big trouble. However, a partnership of 144 between Nick Barker and Matt Dawson steadied the ship. After Matt Dawson was dismissed for an excellent 50, Joe Gale smashed a quick 36 and when Nick Barker was dismissed by Chris Schofield for an excellent 103 Walsden had progressed to 226-6 off their 50 overs. Superb bowling from Jamie Shackleton saw him dismiss opener Taylor for 4 and then Schofield for 1. When Pro Serasinghe was run out for 4 the flood gates opened and Littleborough were dismissed for only 53. Walsden's bowling was superb, Shackleton 6 overs 2 wkts for 9 runs, Stevie Barker 8-2-29, Umesh 5.5-3-5 and Josh Gale 3-2-4. A great win.
The two games rained off at the start of the season were now rescheduled. Games versus Norden away and Rochdale at home were two very important games at a crucial time in the season. In recent years the PCL/CLL premiership title has been heavily influenced by games between Walsden and Norden and the incredible game at Norden on 29 August 16 again proved to be so. Walsden won the toss and decided to bat on not a bad wicket but a rather difficult low wicket. As usual Walsden found runs difficult to come by against the accurate Norden attack. Both Hooson and Gale went cheaply. Nick Barker 14, Rawlinson 15, Umesh 26 and Dawson 16 managed to slowly increase the score up to 102-6. However, vital late contributions from Joe Gale 38 not out, Stevie Barker 13 and Jamie Shackleton 10 not out pushed the score up 156-8 at the end of Walsden's 50 overs. A target, but not the most challenging. Norden in reply were very well set with South African pro Price despatching the Walsden attack with ease and at 43-1were looking like their run chase would be very easy. Umesh was then introduced into the attack and immediately struck with his first ball by bowling Price. Things became even more amazing as Umesh then went on to dismiss the cream of Norden's middle order in with the next five balls to end his first over with 4 wickets for no runs. By the end of Umesh's third over he had taken 6 wickets for 1 run with Norden now 49-7. Late order runs helped Norden to a total of 77 all out with Umesh's final figures being 5.5 overs 7 wickets for 18 runs. An incredible bowling performance and a quite amazing game.
The title wasn't yet won with 3 difficult games to go but wins in these games would now guarantee Walsden the title. Walsden's game at Middleton on 3 September 16 was another game that fell victim to the rain. On 4 September 16 Rochdale visited Walsden with former Derbyshire player Gary Park deputising as sub Pro for them. Rochdale batted first against a very disciplined Walsden attack. Rochdale managed to get to 134 all out off 40 overs with Pro Park scoring 31 and Tom Avery a quick 35. Stevie Barker and Joe Gale had 3 wickets apiece and Umesh 2, but everyone bowled very well. So too did the Rochdale attack when it was their turn. Bux and a very brisk Park bowled superbly. At 28-4 Walsden were struggling but fortunately at this stage Pro Park had bowled most of his allotted 15 overs. Umesh decided that attack was the only way forward and proceeded to hit 65 not out off only 75 balls well supported by Stevie Barker who made 21 and Joe Gale 6 not out to see Walsden home in the 43rd over. Park had the excellent figures of 15 overs 3 wickets for 12 runs but Walsden had won again. One game to go with both Walsden and Saddleworth in with a chance of winning the league, but Walsden in front by 4 points.
Walsden's final game was at home to Greenfield on 10 September 16. Walsden batted first. The early loss of Josh Gale for a duck didn't unsettle the side and a partnership of 84 between Jake Hooson 46 and Nick Barker 62 gave Walsden the start they needed. 38 runs from Umesh, 30 runs from Rawlinson and 20 from Joe Gale saw Walsden up to a challenging 236-6 off their 50 overs. Walsden's opening bowlers Shackleton and Stevie Barker bowled well without success but the introduction of Umesh 4 overs 4-9 and Josh Gale 3.3overs 3-13 made quick in roads into the Greenfield innings and they were dismissed for 94 off only 24.3 overs. Another great night at the club followed.
Walsden had won the League again, the third time in five seasons and also the Wood Cup in a quite brilliant season. This was particularly impressive considering the strength of the Littleborough, Norden and Saddleworth teams. The last time Walsden did the double was in 1962 when they shared the League title with Stockport and also won the Wood Cup. This time the League title was an outright win. A superb season made possible by a really talented team of local lads (no overseas amateur in the team this year for Walsden, despite most opposition teams having one) with another excellent all round contribution from Umesh.
The final PCL premiership table finished with Walsden on 76 points off their 22 games with 13 wins, 3 losses, and 6 games lost to the weather. Surprise package Saddleworth were second with 74 points, Littleborough third with 66 points and Norden fourth with 60 points.
Final statistics were as follows:-
Batting Innings Not Out Runs Average
Umesh 20 5 566 37.7
Nick Barker 19 2 641 37.7
Josh Gale 24 3 650 30.9
Jake Hooson 20 2 547 30.4
Joe Gale 19 8 301 27.4
Stevie Barker 17 5 234 19.5
James Rawlinson 23 1 425 19.3
Jamie Shackleton 6 4 30 15.0
Matt Dawson 16 3 188 14.5
Cam Hanson 10 6 124 12.4
Callum Rushton 14 6 56 7.0
Bowling Wickets Runs Average
Umesh 67 769 11.5
Jamie Shackleton 32 544 17.0
Josh Gale 32 596 18.6
Stevie Barker 30 638 21.2
Joe Gale 27 630 23.3
Other bowlers were Jake Hooson who took 5 wickets, Nick Barker 3 and Callum Rushton and Stu Hanson 1 wicket apiece.
Special mention must be made of wicket keeper Matt Dawson who had another superb season behind the stumps, and who in this and previous seasons was certainly one of the best keepers around.
Nick Barker was voted as player of the season.
C Barker Feb 2018