Walsden Cricket Club has a long association with Toombul DCC stretching as far back as 1978 when Rod Lawrence, a young Queenslander was engaged as professional for Walsden.
Toombul, founded in 1882 is one of 12 grade clubs based in Brisbane, Queensland, Australia. They field 6 senior teams ranging from 6th grade up to 1st grade, which is a very high standard of cricket. It is first grade sides from which the Queensland side is selected. Toombul has produced 10 players who have gone on to represent Australia including the legendary Jeff Thomson "Thommo".
Rod Lawrence was Walsden's first Toombul player when he signed as professional in 1978, when he brought with him Alec Parker from "Souths" as overseas amateur (Souths was also Andy Bichels club). In the early 90s on Rod's recommendation Peter Skuse a Toombul first grade/captain became overseas amateur and was then engaged as professional in 1992. He brought with him David Blake as overseas amateur. David enjoyed himself so much that he eventually resettled in Walsden marrying the then Treasurers daughter Jane Anker. "Blakey" captained both Toombul first grade side and Walden's first team and became a very important player for Walsden throughout the 90s and early years of the new millennium.
Other Toombul players to play for Walden include Ian Vennamore, Matt Thomson (son of Jeff) and Kieran Murphy who also captained Toombul's first grade side. All aquited themselves very well whilst playing at Walsden.
From Walsden both Nick and Stevie Barker have played for Toombul. Nick played for Toombul 3rd grade side in the season of 2003-4 and won the 3rd grade batting averages, whilst brother Stevie played for Toombull in the season 2006-7 also at 3rd grade level and won the A R Skuse (father of Peter) Trophy for most wickets in the club that season.
Walsden's overseas amateur in 2012 Kiwi Hamish Kyne from Wellington actually played a few games for Toombul in the previous season.
We hope this long standing association continues with players from both clubs enjoying the experience of playing cricket on the other side of the world.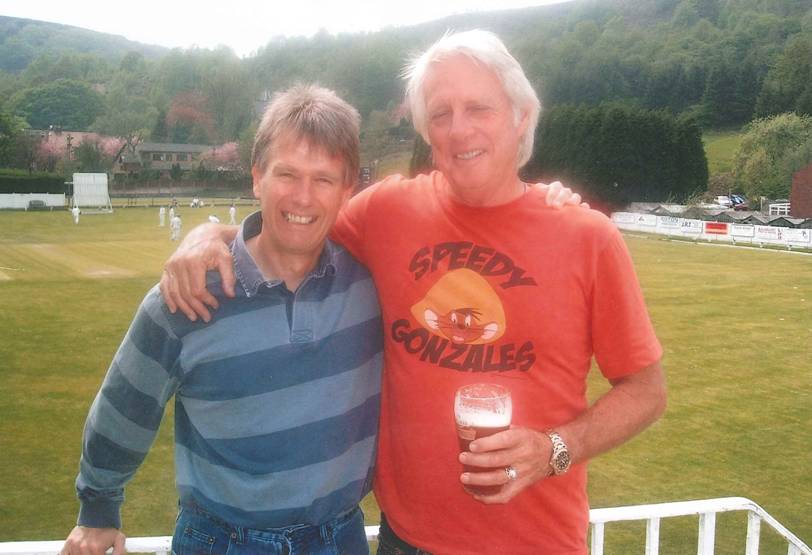 Pictured above are club secretary with arguably the fastest bowler in cricket history. Jeff was over to watch his son Matt playing for Walsden in 2008. Both Jeff and Matt played for Toombul DCC.