CENTRAL LANCASHIRE LEAGUE WINNERS 2013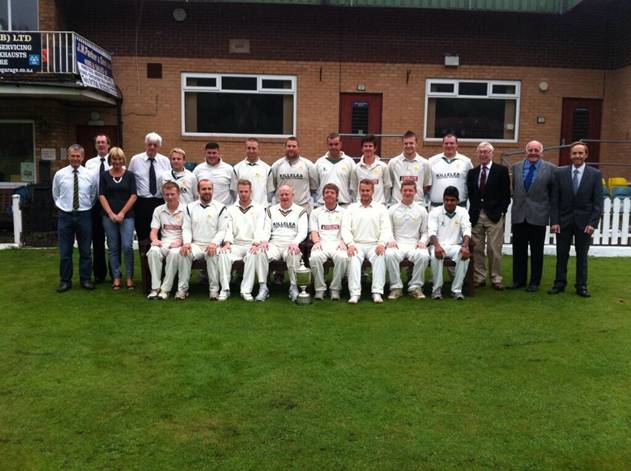 After the superb summer of 2012 for Walsden Cricket Club the winter of 2012/13 was totally the opposite. A HMRC investigation into the club's affairs meant a very worrying winter for club officials. As it happens the investigation was eventually concluded just prior to the 2013 season with no cost to the club. However these worries during the winter resulted in the difficult decision being made not to retain the services of the hugely popular Sri Lankan Ranil Dhammika who had served the club so superbly in 2012, and instead to opt for a home based player with the related cost savings. The club were very fortunate to secure the services of Richard Sladdin, a 44 year old left arm spinner who had played country cricket with distinction for both Derbyshire and Somerset.
The 2013 season saw the introduction within the Central Lancashire League of the new 2 tier league basis with 8 premier league teams and 8 second division teams. This meant that Walsden's chances of retaining the premier championship would be more difficult given that the best 8 teams in the league would play one another 4 times in the season rather than just the 2 in previous years. This new format certainly raised the standards of cricket played in the Premier League with many closely contested games and very few walk overs!
Walsden started the season with the same strong amateur pool of players once again led by Chris Dewhirst. The team were joined by Shubham Harkal a 17 year old Indian batsman, leg spinner as overseas amateur on the recommendation of Matt Dawson.
The season got underway on 14 April 2013 at a cloudy and cold Clifton for whom Australian Cameron Murray was professional and former Lancashire pace bowler Steve Cheetham was opening the bowling. Cheetham made things extremely difficult for the Walsden top order, however a resolute 57 from opener Kris Halstead, 25 from Nick Barker and a last wicket partnership of 26 between Dewhirst and Shackleton set a reasonably challenging total of 177 all out. In the absence of the injured Stevie Barker, Jamie Shackleton and Jake Hooson made a superb start and quickly reduced Clifton to 69-6 with Shackleton dismissing Murray for 0. A rear guard action was eventually extinguished by Joe Gale 2 wickets and pro Sladdin 3 wickets saw Clifton dismissed for 140. A good start!
The first visitors to Scott Street were arch rivals Littleborough captained by Ex England player Chris Schofield with former Sheffield Shield cricket of the year Clinton Perren as professional. A rapid start by the 'boro' openers resulted in the early introduction of both Joe Gale and professional Sladdin into the attack which had an immediate effect as both openers were removed. A brilliant diving catch by Dewhirst to remove Perren coupled with a good running catch by Josh Gale to dismiss Schofield turned the game on its head. Littleborough slumped from 63-0 to 125-9 before a last wicket partnership took them to 149. Sladdin took 6-42 off 19.4 overs and Joe Gale 3-18 off 7 overs. Walsden's innings began slowly in drizzle. Jake Hooson was dismissed for 7 with the score on 13. After a rain interruption which left Walsden needing 103 runs off 25 overs, Matt Dawson batting at 3 then played a spectacular innings smashing the ball to all parts in the gathering gloom to end on 62 not out off only 55 balls. James Rawlinson finished with 11 not out as Walsden achieved the required target off 24.4 overs.
The last weekend in April saw the 2012 league runners up Heywood visit Scott Street. The weather was again poor and after Walsden had struggled to 102-6 thanks to 47 from Kris Halstead the game was abandoned.
The weather improved the following weekend when Walsden visited Milnrow for whom the talented all round Pakistani Barbar Naeem was professional. A superb 8-60 off 17 overs by pro Sladdin restricted Milnrow to a challenging total of 173. A poor start by Walsden with only Jake Hooson 31 offering any resistance saw Walsden slump to 60-5. Useful scores of 22 from Sladdin and 25 from Joe Gale gave Walsden hope but Naeem's nagging leg spin proved too challenging and Walsden were dismissed for 133.
Another cloudy day in early May saw Norden with South African pro Michael Price visit Walsden. Norden's bowlers well marshalled by ex-Lancashire player Dexter Fitton bowled tightly and only Rawlinson with 43, Sladdin with 34 and a breezy knock of 37 by Shackleton provided Norden with the not too daunting target of 189. If Walsden could dismiss Price then they had a chance but as usual they couldn't! Price, as was the norm against Walsden batted very well for a patient 84 not out and was well supported by Gregg Tattersall with 46 to see Norden home for the loss of only 5 wickets.
A strong Rochdale side were the next visitors to Scott Street. Overnight rain meant a 4.00 pm start and a 25 over per side game. A superb 64 by Jake Hooson supported by Harkal with 25 and 19 from Joe Gale resulted in a target of 140 for Rochdale. A steady but very slow start from the Rochdale openers put pressure on Rochdale's middle order and when Dewhirst caught South African pro Wes Lansdale off Joe Gale panic set in and some excellent bowling at the death by Hooson (3 wickets) and Jo gale (2 wickets) meant that Rochdale ended 8 runs short of their target on 132 for 6. A good win for Walsden.
Rain in mid-May resulted in Walsden's visit to Norden being washed out without a ball being bowled.
A Wood Cup interlude in round 1 at second division Radcliffe resulted in an easy win for the champions. Walsden after a shaky start scored 191 all out with Harkal 42, Joe Gale 46, Rawlinson 26 and a very useful 21 not out from number ten Dewhirst setting Radcliffe a challenging target. Radcliffe never threatened Walsden's target and were dismissed for only 88 with Sladdin and Harkal taking 3 wickets apiece and Harkal deservedly taking the man of the match award.
A disastrous late May T20 visit to Milnrow resulted not only in defeat but a serious finger injury to pro Sladdin which would keep him out of cricket for at least 6 weeks. This meant the club going through the hugely difficult process of obtaining decent sub pros for all of June and most of July – not good! Coupled with this was the fact that the top of the batting order was certainly not firing on all cylinders and only the depth of the batting was keeping the team in contention for the league at this stage. Expectations in late May were probably a mid-table finish.
The last game in May saw Middleton visit Scott Street. Amazingly Sladdin was persuaded to play with a "bandaged up" broken finger and he did not disappoint. A marathon spell from him of 18 overs 5-45 restricted Middleton to 190-9 off their 50 overs. Walsden again had a shaky start against the pacey Mahmood and at 77-5 were looking down the barrel. Fortunately the late middle order came to the rescue with Harkal 20, Josh Gale 16, Joe Gale 34 and then a superb partnership of 67 between Stevie Barker 36 and skipper Dewhirst 33 not out saw Walsden home for the loss of 7 wickets – a real nail biter.
As the summer improved a sunny Saturday on 1 June saw Walsden visit title contenders Heywood at their Crimble ground. Walsden had recruited Todmorden professional Sri Lankan Geeth Alwis for this key fixture. Walsden as was the norm for most of the early part of the season began poorly and when Alwis was dismissed for nought Walsden were 27-3. Fortunately Nick Barker returned to form and hit a superb 81 well supported by Rawlinson batting at No. 6 who scored 24 and some superb hitting from Joe Gale 19 and Josh Gale 21 saw Walsden to a challenging 202 all out. Heywood reply was threating and they moved comfortably to 66-2, but when Hooson bowled Cross and Alwis dismissed Pawson Heywood fell away badly and were dismissed for only 135, with Alwis 3 wickets and Joe Gale 3 wickets wrapping things up quickly.
The next visitors to Walsden were Milnrow. Walden had recruited the superb Accrington pro Ashar Zaidi for this game and he certainly didn't disappoint. Milnrow's innings was based around a knock of 56 from pro Naeem, but tight bowling from Zaidi with 16 overs 2 for 41 and a superb late spell of 8 overs 5 for 40 from Harkal restricted Milnrow to 190 all out. The early loss of Rawlinson and Dawson gave Milnrow some hope but a magnificent partnership of 162 between Jake Hooson 56 not out and the brilliant Zaidi 108 saw Walsden home off only 34 overs. Expectations were on the up!
A Lancashire trophy interlude on 9 June 2013 saw Barnoldswick visit Walsden who were without a professional for this game due to replacements not being allowed in this competition. Walsden amassed a daunting total of 279 off their 45 overs thanks to a superb partnership of 211 between Hooson 97 and Dawson 105. Unfortunately a magnificent 141 by Barnoldswick professional Pakistani Imran Khalil saw them home in the last over of the game.
Walsden next visited Rochdale's Redbrook ground for what was sure to be another tough encounter. Walsden batted first and good contributions from Hooson 30, Victorian Dan Salpietro 32 and Harkal 26 saw Walsden to a reasonable 169 all out. Rochdale's reply began badly with 2 early wickets each for Stevie Barker and Jamie Shackleton who reduced them to 52-4. Salpietro then turned the screw and when he eventually dismissed the young Australian Wornes for 68 Rochdale were all out for 157. Another very good win for the battling Walsden team.
In the second round of the Wood Cup Milnrow were the visitors to Walsden. Sub pro Tasmanian John Wells sealed the game early on with a superb exhibition of swing bowling for Walsden taking 5 wickets for 11 runs off his ten overs. Josh Gale chipped in with 5 overs 3 for 20 and Milnrow were dismissed for only 90. After an early wobble when Walsden were 20-3 Nick Barker 29 not out, Wells 26 and Harkal 14 not out saw Walsden home off only 25 overs.
Next was a visit to Middleton's Towncroft ground where unfortunately Ashar Zaidi was deputising this time for Middleton whilst Walsden had again recruited the Victorian Dan Salpietro. Walsden had a terrible start with Rawlinson and Dawson both being dismissed for ducks. Fortunately a good innings of 71 from Hooson supported by Salpietro 29, Harkal 29 and Joe Gale 23 saw Walsden progress to 185-8 off their 50 overs. Walsden bowled poorly with only Shackleton with 3 wickets having any success. Zaidi 82 not out well supported by Davey 62 not out smashed Walsden's bowlers to all parts of the ground to win easily for the loss of only 3 wickets.
Salpietro again deputised for the visit of Clifton to Scott Street. Walsden had another poor start and when Cheetham bowled Salpietro for 0 Walsden were 78-5. Fortunately Dawson 39, Josh Gale's maiden half century 58 not out and 33 from Stevie Barker saw Walsden to 201 all out. Excellent bowling from Walsden with Salpietro 19 overs 3-40 and Stevie Barker and Joe Gale each taking 3 wickets saw that Clifton were dismissed for only 124.
Luke Proctor the Lancashire County player was sub pro for Walsden in the key fixture versus Littleborough at Hare Hill on a lovely day on the last day of June. Unfortunately for Walsden after a poor start when the hosts were 23-2 professional Perren and skipper Schofield both scored centuries in a partnership of 224 to take Littleborough to the very demanding total of 258-3 off their 50 overs. Walsden's reply started very well with an opening partnership of 121 between Hooson 68 and Rawlinson 53, but after the run out of Proctor for 12 Walsden's reply tailed away and they were 210-9 at the end of the overs.
This game marked the halfway stage of the league and with all the top sides taking points off one another, Walsden were still in with a shout of retaining the title but would need to up their game to do so.
Unfortunately Norden with pro Mark Price were the next visitors to Scott Street. Walsden's Pakistani sub pro Raza tried hard with the new ball without success and an unbeaten 128 from Price and 58 from Simon North saw Norden to a sizeable 255-4 off 50 overs. After the early loss of Hooson, Rawlinson with 48, Dawson 28, Raza 28, Harkal 40 and Josh Gale 21 gave Walsden hope but the pressure of the run rate proved too much and Walsden were dismissed for 206. Two consecutive losses was something Walsden had not suffered since 2011 and they needed to bounce back quickly.
The semi-final of the Wood Cup at 2nd division Monton was a good opportunity for the club to return to winning ways, which they did thrashing Monton, who were dismissed for only 96 on a beautiful summers day. Nick Barker having a rare bowl took the man of the match award for his 10 overs 4-20 well supported by ex Todmorden pro Qaiser Abbas 2-15 with Joe Gale and Shackleton also taking 2 wickets each. Twenties for Hooson, Rawlinson, Dawson and 17 not out for Abbas saw Walsden reach their target off only 21 overs.
New found confidence, then saw Walsden thrash Middleton in the league at their Towncroft ground. Walker with 52 gave Middleton hope but the introduction of Nick Barker and Harkal who took 3 wickets each saw Middleton slump to 163 all out. Walsden's reply remarkably took only 19 overs to win. Rawlinson scored 41 before sub pro Chesney Hughes from Derbyshire CC with 64 off 36 balls and Dawson with 39 not out off only 21 balls saw Walsden home with consumate ease.
What was now extremely encouraging was the fact that Walsden's top order were now returning to the form of 2012 and Sladdin was now fit to resume as pro. This certainly proved to be the case as Heywood's visit to Scott Street on Saturday 20 July illustrated. A superb 90 from Rawlinson well supported with 20s from Hooson, Dawson and Nick Barker and a late 19 not out from Stevie Barker saw Walsden to 226 all out. Heywood had a steady reply but a 17 over spell from the ever green Sladdin who took 5-62 resulted in Heywood being dismissed for 182.
Walsden were now on a 'roll'. A cloudy day at Clifton saw the hosts post a challenging total of 218-9 with Sladdin 3 wickets and Nick Barker 4 wickets both bowling well. Walsden lost Hooson for 1 and Dawson for 12 but then a brilliant partnership off 191 between Rawlinson 110 and Nick Barker 73 not out saw Walsden coast home with 6 overs to spare. Both played extremely well against a very testing attack.
The rains returned in late July for Littleborough's visit to Walsden which resulted in a 20 over game with Littleborough getting off to a flyer, and quickly amassing a very challenging 160-5 off their 20 overs. A brilliant 81 not out from Hooson saw Walsden to the verge of victory but a torrential downpour with Walsden needing 19 runs off 2 overs with 5 wickets left finished things off as a draw. Both teams of course thought they would have won!
The second visit of the season to Rochdale's Redbrook ground on the first weekend in August saw Walsden off to a terrible start with both Hooson and Dawson back in the pavilion without a run on the board. Rawlinson and Nick Barker dug in against some good Rochdale bowling but after Rawlinson was dismissed for 29 Walsden slumped to 60-7. Not for this first time this year 17 year old Joe Gale who joined the resolute Nick Barker played a superb innings and between them they added exactly 100 runs before Gale was dismissed for his maiden half century on 52. Nick Barker batted through the innings for 76 not out and Walsden total of 191 overs was now challenging. Accurate Walsden bowling kept up the pressure on all the Rochdale players and wickets fell at regular intervals. Once Dewhirst caught pro Lansdale off Hooson the Rochdale reply tailed away to 130 all out with Sladdin and Joe Gale taking 3 wickets each.
The first Sunday in August is always Wood Cup final day and Walsden visited Heywood Crimble ground to face a Heywood team who were still very much in the mix for the league title. Walsden won the toss and elected to bat. A promising start with Hooson 17 and Rawlinson 25 soon turned to a struggle and at 50-4 Walsden were in trouble. A partnership of 70 between Nick Barker 38 and Josh Gale 28 gave Walsden hope but when they were both dismissed the team struggled to a total of 163 all out.
Rain at the end of Walsden's innings and on Monday meant a Tuesday night resumption. Walsden's bowlers began well and with Joe Gale brilliantly running out Zelem and Stevie Barker removing Heywood's South African pro Travis Townsend things were in the balance. Heywood had advanced to 72-2 when a superb over form Josh Gale saw Heywood slump to 72-5 and at this stage give Walsden real hope. Unfortunately Bobby Cross played a superb captains innings and saw Heywood home with a brilliant 88 not out to see Heywood win for the loss of 6 wickets.
A return to league action in mid-August saw Walsden thrash Middleton at Walsden. Rawlinson 64 and Nick Barker 63 not out who were both now in excellent form laid the foundations and quick runs from the Gale brothers saw Walsden to a very challenging 237. Once Stevie Barker had removed both Middleton openers Stanworth and Walker, wickets fell at regular intervals and the away team were dismissed for a poor 86 with Stevie Barker taking 5 for 31 off his 11 overs.
Torrential rain the following weekend meant that only 1 over was bowled by Walsden at Littleborough. At this stage the league was very tight with Walsden just ahead of Littleborough, Heywood, Rochdale and Norden. All 5 teams could still win the title.
A potentially tricky fixture against Clifton at Scott Street on 18 August proved to be anything but. A superb 76 from Hooson well supported by Nick Barker 34, Josh Gale 42 and a late contribution of 14 not out by skipper Dewhirst resulted in challenging 217 for 9. The accurate Walsden bowlers again turned the screw on Clifton's batters and wickets fell at regular intervals. Sladdin and Joe Gale with 3 wickets and Hooson with 2 dismissed Clifton for 122. Another good result.
In the penultimate league game in August relegation bound Milnrow again visited Walsden. Walsden again batted. Walsden's top order was now functioning very well and Hooson 29, Rawlinson 51 and Nick Barker 45 again laid the foundations. Late runs from Joe Gale 23 and Dewhirst and Sladdin resulted in another challenging score of 216-8. Again Walsden's bowlers were superb. Shackleton's opening spell was excellent, well supported by Hooson and Milnrow were in big trouble at 38-6. Another 3 wicket haul for Sladdin resulted in Milnrow being dismissed for 79. Another 5 points.
In 2012 Walsden's late season win at Norden was the first time that the title became a real possibility and things were no different in 2013. A terrible start for Walsden saw them 0 for 2 off 2 balls. Fortunately these days Walsden's batting is made of stern stuff. Rawlinson and the resolute Nick Barker again dug in against some excellent Norden bowling. Barker batted for a long time for what proved to be a critical 53 runs and again a late onslaught from Harkal 18 and then Joe Gale 29 including three sixes in one over resulted in a reasonable but certainly not unattainable 179 all out.
Norden's reply began well with professional Price and Harvey Fitton looking pretty untroubled. The key moment in the game was when Price advanced down the wickets to Sladdin and keeper Brown whipped off the bails to dismiss Walsden's nemesis Price for 29. Unfortunately Norden's Kiwi overseas amateur Pimm also played very well and at 141 for 3 Norden were cruising. Skipper Dewhirst not for the first time in desperation invited Nick Barker to ply his mixture of dibbly dobblies, leg cutters and quicker balls. When Pimm inexplicably tried to slog Sladdin out of the ground and was caught by Joe Gale the wobbles set in for Norden's batsman. Nick well supported by brother Stevie bowled a match winning spell of 10.4 overs 6 for 20. Norden slumped from 141 for 3 to 161 all out. An unbelievable game and the fact that Heywood lost at Clifton meant that Walsden were top and only Littleborough could now catch them with, in theory 3 games to play.
On the last Saturday in August Walsden accepted Todmorden's invitation to compete in a newly formed T20 competition involving 4 local teams. Todmorden easily beat Bacup in round 1 whilst Walsden beat Littleborough in hugely entertaining game. Littleborough scored a very respectable 160 off their 20 overs and at half time were pretty confident of victory. A steady start paved the way for Nick Barker 74 and Dawson 35 to take Walsden to a very narrow victory in a superb game.
The T20 final was a relatively poor game with Walsden dismissing Todmorden for only 84. Harlow bowled the dangerous Newbitt early on and when Todmorden pro Alwiss was caught Josh Gale bowled Sladdin the Todmorden innings was a procession. After a good start by Rawlinson and Hooson a slight wobble saw Walsden reduced to 70-5, but with Nick Barker still at the crease and Harkal quickly ending the game Walsden had won their first trophy of the season with Nick Barker being named man of the tournament.
On the first Sunday of September Walsden were schedule to play Heywood in what would have been a critical game. Unfortunately for all concerned Heywood decided to concentrate on their own Lancashire Trophy semi-final game and conceded the game to Walsden (much furore and correspondence between both clubs and the league executive followed) but Heywood's decision gave Walsden the 5 points they needed to become inaugural champions of the new CLL premiership for 2013.
With the title now decided Walsden's last visit to relegated Milnrow saw another rampant batting display to amass 235-6. Kristian Halstead again deputising at the top of the order scored an excellent 43 well supported by Stevie Barker with 38. Dawson, Harkal and Joe Gale then decided to despatch the ball to all parts of the ground with extremely entertaining "hitting". Again Milnrow had no answer to Walsden's pressure bowling. Shackleton with 4 wickets was well supported by Nick Barker 2 wickets, Stevie Barker and Joe Gale one wicket each and when Milnrow had progressed to 146-8 with no prospect of winning the rains ensured a 4 point win for Walsden on run rate.
With the title race now over and the Walsden team wanting to commence with their end of season celebrations the rains kindly ensured that not a ball would be bowled in the last game of the season versus Rochdale at Walsden. The celebrations began with Walsden winning the league by a healthy margin of 14 points from their nearest challengers Littleborough.
Walsden won 18 off their 28 games, drawing 5 and losing 5. In 2012 they had lost only 2 games but this was still a fantastic effort considering the fact that the new Premier league had certainly resulted in tougher cricket. Second placed Littleborough had won 16 of their 28 games, with Rochdale in third place and Heywood who had challenged for much of the season in 4th place.
The statistics below as complied by scorer Mick Watson illustrated the strength in depth of both Walsden's batting and bowling. Skipper Dewhirst who began the season batting at number 10 averages over 25 for the season whilst Stevie Barker who started batting at number 9 also averaged over 20. Similarly Nick Barker who didn't bowl in the first half of the seasons took 24 wickets at just under 11 runs per wicket. The first team were also very fortunate to have some very capable stand ins from the second team when required and Kristian Halstead in particular didn't disappoint.
The overall statistics make very impressive reading. Nick Barker who was named player of the year scored 584 runs at an average of 34.3 and finished 3rd overall in the league amateur batting averages, whilst both Rawlinson 771 runs at 28.5 and Hooson 716 runs at 27.5 also figured prominently in the league averages. (Hooson was also named young player of the year in the C.L.L.). Every player with the exception of pro Sladdin and Shackleton scored over 180 runs and every player in the team played a key innings at some stage in the season.
On the bowling front pro Sladdin had a superb season with 50 wickets at 13.7 (and missed 8 games due to injury), as did the irrepressible Joe Gale who won the amateur bowling averages aged 17 with 32 wickets at 18.75 well supported by Jamie Shackleton 30 wickets at 26.7. Other important contributions came from Nick and Stevie Barker with 24 wickets apiece and Josh Gale, Hooson and Harkal. As the stats below reveal all the players could bat and bowl.
Special mention must be made for all 4 juniors in the team. Jake Hooson, Joe Gale, brother Josh and Harkal are without doubt some of the best young players in the league and all made important contributions during the season. It was the blend of talented youngsters coupled with some of the best senior players in the league that has resulted in successive championships for Walsden.
Statistics for the season were as follows:-
WALSDEN CC 1ST XI
BATTING
Includes LCB trophy
NAME INNS NO H/S RUNS AVE
N Barker 23 6 81 584 34.36
K Halstead 7 1 57 178 29.67
J Rawlinson 29 2 110 771 28.56
J Hooson 28 2 97 716 27.54
C Dewhirst 17 10 33 181 25.86
M Dawson 25 3 105 479 21.78
S Barker 16 6 38 201 20.10
Joe Gale 23 2 52 384 18.29
Josh Gale 24 4 58 337 16.85
S Harkal 21 1 42 336 16.80
R Sladdin 13 3 34 116 11.60
J Shackleton 16 3 37 110 8.47
BOWLING
Includes LCB trophy
NAME OVERS MAIDENS RUNS WKTS AVE
R Sladdin 221.1 44 685 50 13.70
Joe Gale 148.2 17 560 31 18.07
J Shackleto 193.4 14 799 31 25.78
ALSO BOWLED
N Barker 75.4 8 257 24 10.71
Josh Gale 24.0 1 124 9 13.78
S Harkal 48.2 6 213 12 17.75
M Halstead 18.0 3 63 3 21.00
S Barker 151.4 10 661 24 27.55
J Hooson 137.3 14 441 17 28.30
C Dewhirst 6.0 0 51 1 51.0
HIGHEST WICKET PARTNERSHIPS
Batsmen Opponents
1ST J Hooson J Rawlinson 121 v Littleborough Away
2nd J Rawlinson C Hughes 86 v Middleton Away
3rd N Barker J Rawlinsion 191 v Clifton Away
4th N Barker S Harkal 84 v Littleborough Home
5th N Barker Josh Gale 70 v Heywood Away
6th N Barker Josh Gale 70 v Middleton Home
7th N Barker Joe Gale 100 v Rochdale Away
8th R Sladdin J Shackleton 59 v Norden Home
9th Joe Gale C Dewhirst 39 v Radcliffe Away
10th C Dewhirst J Shackleton 26 v Clifton Away
James Rawlinson scored 110 at Clifton which was the highest score of the season.
Matt Dawson also scored 105 in the Lancashire Trophy game at Walsden. Jake Hooson scored 6 half centuries whilst Nick Barker and Rawlinson scored 5 each. In six hitting Joe Gale and Matt Dawson lead the way with 15 each.
On the bowling front Richard Sladdin 8 for 60 at Milnrow was the best bowling of the season followed by Nick Barker 6 for 20 at Norden and John Wells 5 for 11 versus Milnrow in the Wood Cup at home.
Top catchers in the season were Dewhirst with 15, Rawlinson with 13 and Josh Gale and Harkal with 10 each. This team do not drop many catches which can often make a critical difference to the results of games. Wicket keeper Matt Dawson had another superb season (despite a bad back for many games) with 26 catches and 5 stumpings. Finally the highest score of the season was 237 for 8 against Middleton at home. This is not an unduly high score and again reflects the higher standard of the newly formed Premier League. Walsden can by very proud of their achievements to win this in its inaugural season.
The fact that Walsden second team also won the league and with the club winning the aggregate trophy in successive years together with both teams reaching the Wood Cup and Burton Cup finals made it a very special season for Walsden Cricket & Bowling Club and a great pool of players.
C Barker (November 2013)