After the double winning success of the first 2016 season in the Pennine Premier League expectations were high for the 2017 season. The only major change was that the 2016 skipper James Rawlinson had decided to step down to be able to spend more time with his family so Nick Barker stepped up as captain for the 2017 season.
The first game could not have been more difficult. Our main rivals in recent years have been Norden and to face them in the first game at Stag Park was always going to be difficult, particularly with Umesh being late to arrive in the UK, so instead Walsden managed to obtain the services of Lancashire's Aaron Lilley. Walsden won the toss and elected to bat. Initially this looked to be a good decision with Jake Hooson and Josh Gale putting on 46 for the first wicket. But a steady flow of wickets including Lilley for 12 meant that despite a late partnership between Stevie Barker and Joe Gale Walsden could only manage a slightly below par score of 164. Norden had an excellent start with Udwadia and Tolley putting on 76 for the first wicket. Although Walsden did manage to take 5 Norden wickets including Pakistani pro Zamarad for a duck Norden achieved their target off 40 of the 50 overs. Not a great start.
The second game on the last weekend of April 2017 saw Walsden entertain Rochdale at Scott Street. Walsden again had a sub pro, this time Kelly Smuts on loan from Todmorden CC. Walsden won the toss and asked Rochdale to bat. A superb bowling performance of 15 overs for 5 – 49 by Smuts reduced to Rochdale to 89 – 9 before a last wicket partnership by Mo Bux (12 no) and Dale Highton (43) took Rochdale to 139. In reply Walsden lost both openers cheaply but Nick Barker 53 no and Smuts 66 no saw Walsden quickly home off 27 overs.
Match 3 was a first visit to Stayley CC where old Walsden pro Peter Skuse was skipper. Walsden batted first on a difficult wicket with Pakistani pro Nadeem bowling very well. However, a 90 run partnership between Nick Barker 31 and sub pro Shash Pussegolla 76, together with a late flurry from Joe Hanson meant that Walsden were able to pose a challenging 182. In reply Skuse batted very well for his 59 but he lost partners at regular intervals and when he departed the game was lost and Stayley were dismissed for 159 with Shackleton 9.3 over 4-28 being the pick of the bowlers.
In early May 2017 Walsden entertained Horwich in the ECB National Cup. Walsden batted first and a superb 199 partnership between Jake Hooson 112 and Nick Barker 106 saw Walsden attain a huge 282-6 off 45 overs. Horwich could only muster 152 in reply with Shackleton 7 overs 2-17 and Hooson 8 overs 3-18 being the best bowlers.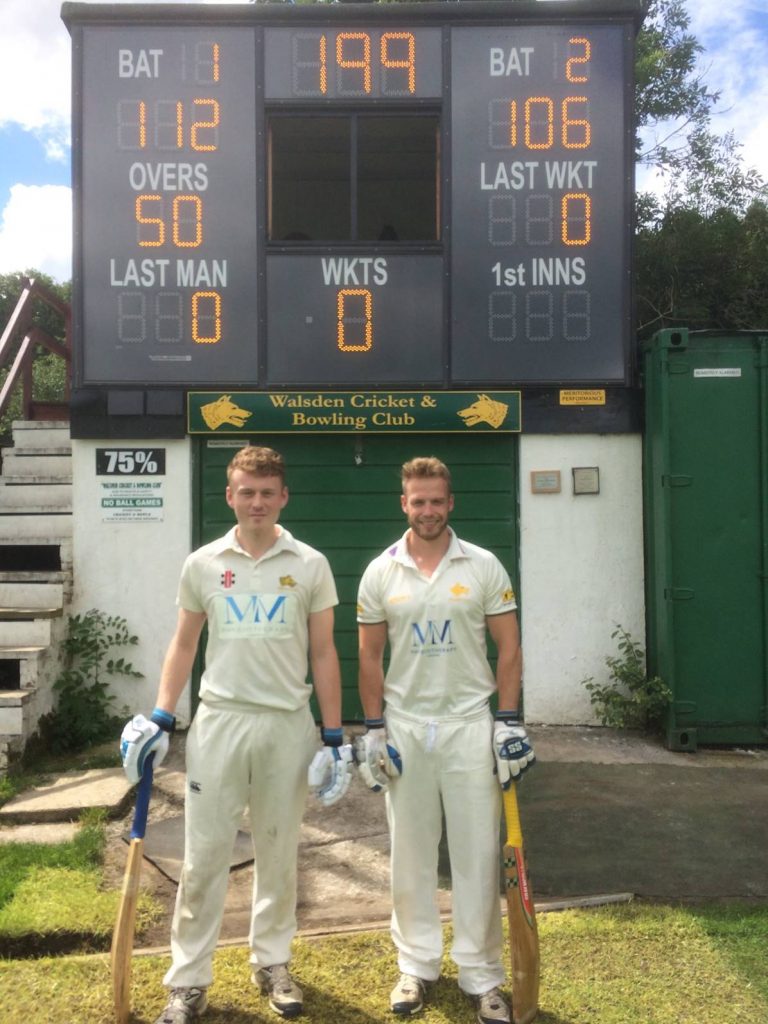 In mid May 2017 a tricky fixture at Saddleworth awaited, with Umesh now being available. Saddleworth posted a very challenging 208 off 47 overs with Pakistani pro Aslam hitting 86 whilst Josh Gale had the excellent figures of 9.5 overs 5-55. Walsden' s reply started badly with both Hooson and Barker out cheaply. However, 42 from Josh Gale, 30 from Umesh and then a superb unbeaten 101 partnership between Stevie Barker 60 no and Joe Gale 55 no saw Walsden home.
The next visitors to Scott Street were Austerlands. Walsden elected to bat and an excellent 107 by Jake Hooson along with 53 from Josh Gale, 31 from James Rawlinson and 30 from Joe Gale saw Walsden achieve a daunting 279. Austerlands never threatened to get close and were 138-7 when the rain intervened and Walsden won on the DLS method.
Walsden visited Crompton on 19 May 17 but due to persistent rain no start was possible. Next visitors to Scott Street were Barrow CC in Round 1 of the Lancashire Cup. Barrow were put in by skipper Barker and a superb all round bowling performance restricted Barrow to 138 all out with Josh Gale being the pick of the bowlers with 9 overs 5-38. Josh continued his excellent performance with 93 no off just 64 balls as he and Nick Barker 25 no knocked off the runs off in just 30 overs.
Late May brought Royton to Scott Street in the Wood Cup Round 1 and the most amazing game of cricket ensued. Royton won the toss and asked Walsden to bat. A brilliant 192 partnership between James Rawlinson 146no (the highest amateur score by a Walsden player) and 103 by Joe Gale saw Walsden amass a massive 335 of their 50 overs. When Royston's pro Khurana was dismissed for a duck there was no way Walsden could lose – or could they? Rain intervened which reduced Royton's target to 277 and a quite magnificent 154 by R Carruthers with support from his brother saw Royton achieve their target 4 down off 35.2 overs. A truly remarkable game and a great innings by Carruthers. Just one of those days.
 
In early June Glodwick visited Walsden. The visitors batted first and scored 158 with Umesh now hitting form with 12.5 overs 5-20. A rain reduced target of 122 was quickly knocked off by Hooson 59 no and Josh Gale 58 no off just 18.5 overs.
Walsden visited Heywood (now in the GMCL) in early June in the ECB Cup. Walsden batted poorly and only 40 from Cameron Hanson gave the score only respectability and were dismissed for only 112. Heywood knocked off the runs in only 25 overs.
On 10 June 17 Walsden played their only ever game in the Tanner Cup. Because Walsden had lost to Royton in the Wood Cup they now entertained Saddleworth in this "Plate Trophy". Unfortunately, with Walsden at 51-3 the rain poured (again) and Walsden lost in the bowl out.
Next up was the Lancashire Cup where Walsden entertained Norden. An excellent 112 no by Umesh saw Walsden push on to a total of 194, but 89 no from Tolly and 83no by Zamurad saw Norden home comfortably in the 36th over.
In mid June Walsden returned to League action with a visit to Heyside. The home side batted first and were dismissed for just 112 with Umesh returning the excellent figures of 12.1 over 5-12. In reply Walsden stuttered a bit being 41-4 but an unbroken partnership between Josh Gale 52 no and Stevie Barker 35 no saw Walsden home.
Next visitors to Walsden were derby rivals Littleborough captained by ex Aussie shield star Clinton Perrin. Walsden batted first and a superb 121 no by Jake Hooson and 81 no by Umesh saw Walsden post a very challenging 278-3. In reply Littleborough never threatened and were dismissed for 164 with pro Cloete being the highest scorer with 64 and wickets being shared out.
Walsden next visited Greenfield on 17 July and the home team scored 183 with Umesh taking 4 wickets off his 15 overs. The reply was very difficult with only Umesh coming to terms with the bowling but his magnificent 106 no saw Walsden home for the loss of 8 wickets. A real nail biter.
Walsden's next league game was at Monton where Walsden posted a decent 215 with runs shared out and Umesh contributing an excellent 83. In an ill tempered game Monton never really threatened Walsden's total and were eventually dismissed for 168 with Umesh and Joe Gale each taking 4 wickets.
Norden were next visitors to Scott Street in a very important league game. Norden batted first on a difficult wicket and scored 148 with pro Zamurad contributing 62 and Stevie Barker being the pick of the bowlers with 10.1 over 3-39. Walsden lost both openers for 0 but Nick Barker managed to bat through for 40 no with Rawlinson 25, Umesh 41 and then Stevie Barker 28 no all making very important contributions in a very important tight win.
Walsden next made the return visit to Redbrook. In another rain affected game Rochdale batted first and made 122 off their 24 overs. In reply Nick Barker 46 and Umesh 50 no saw Walsden achieve this challenging score in the 23rd over.
Next visitors to Scott Street were Staley, who batted first and scored 108 with Umesh taking 4 wickets and Stevie Barker 3. In reply Walsden easily knocked off the runs in only 27 overs with Josh Gale scoring 59 no.
In mid August Saddleworth made their return visit to Scott street. Walsden batted first and 78 from Josh Gale and 113 no from Umesh saw Walsden amass 252 off their 45 overs. In reply Saddleworth managed 159 with pro Aslam contributing 81. Best bowlers were Umesh 3-43 and Nick Barker 3 overs 2-11.
The last weekend in August 2017 saw Crompton visit Scott Street. The visitors batted first and scored 135 with Umesh taking 5-35 and Joe Gale 4-29. Umesh continued his rich vein of form by hitting 84 no off just 27 balls to win the game off just 26 overs.
On the first weekend in September Glodwick CC visited Scott Street when Umesh continued his great form with 100 no and with Jake Hooson also scoring 65, Walsden posted an excellent 269. Glodwick never posted a challenge and were dismissed for just 99 with Shack, Jake Hooson and Umesh all taking 3 wickets.
The next game (game 19) of the season saw Heyside visit Scott Street, but rain again was the victor with Heyside 139-3 when the rains came. This win left Walsden 6 points clear of Norden with 3 games to go.
Unfortunately (or fortunately) the double header weekend on 10 and 11 September 2017 was totally rained off which mean that Walsden had retained the Pennine League title with one match to go. The last game was home to Monton. Walsden batted first and an excellent opening partnership of 93 between Jake Hooson 46 and Josh Gale 50 saw Walsden off to a flyer. Unfortunately a flurry of wickets saw Walsden reduced to 116-6 before an excellent partnership between Joe Gale 27 and Gareth Brandwood saw Walsden post a target of 192. In an exciting rain affected run chase Monton certainly threatened Walsden's score and despite 14 over 5-41 by Umesh and 5 overs 4-34 by Joe Gale this final game saw Monton bowled out for 169 which earned them a tie under DLS rules.
The 2017 Pennine League title was Walsden's again, with Norden just 7 points behind.
Sadly this was to be the last game played in the Pennine League with all teams departing for either the GMCL or Lancashire League in 2018. The Pennine League unfortunately only lasted 2 years but in both years the league was won by this excellent Walsden team, who as well won the Wood Cup in 2016. It is fair to say that Walsden CC dominated the Pennine Cricket League in its brief two year lifespan.
2017 STATISTICS

2017 STATISTICS
BATTING PLAYER
GAMES
INNS
NOT OUTS
RUNS
HIGH SCORE
AVG
Umesh
19
16
8
852
113*
106.5
J. Hooson
22
21
2
730
121*
38.42
Josh Gale
24
23
4
626
93*
32.95
S. Barker
22
13
6
215
60*
30.71
N. Barker
21
19
4
404
106
26.93
Joe Gale
24
13
1
302
103
25.17
J. Rawly
21
17
3
326
146*
23.29
G Brandwood
6
4
2
38
25
18.00
M. Dawson
14
9
3
104
22
17.33
C. Hanson
16
7
2
70
40
14.00
J. Hanson
12
7
2
37
22
7.40
D. Howley
10
2
1
7
7
7.00
BOWLER PLAYER
OVERS
RUNS
WICKETS
AVG
Umesh
184.2
700
49
14.3
N. Barker
28.5
135
8
16.9
Joe Gale
100.1
438
23
19.1
J. Shackleton
181.3
567
29
19.5
Josh Gale
116.2
534
24
22.2
S. Barker
171.3
584
26
22.5
J. Hooson
42
195
7
27.9
G.Brandwood
7
77
2
38.5

Chris Barker December 2020.