LANCASHIRE LEAGUE WINNERS 2018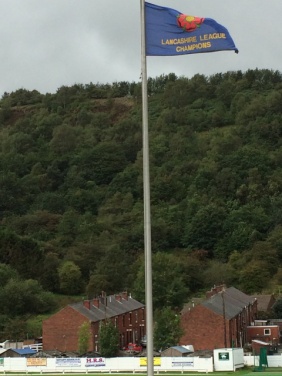 Season 2018 was eagerly anticipated being Walsden's first in the expanded Lancashire League with 24 teams playing one another once with the top 12 forming the top division and the other 12 the bottom division in 2019.
The first game of the season at Nelson was rained off as was the entire league program with the games being replayed in mid August.
Walsdens first game was a home encounter against Rishton which was won comfortably with Rishton being dismissed for only 78, Jamie Shackleton taking an amazing 6 for 9. The second game was expected to be an extremely tough encounter at Lowerhouse who were eventual runners up to Walsden. Umesh with 88 not out and Josh Gale 56 lead the way for Walsden setting a challenging total of 230. Three wickets apiece for Umesh, Joe Gale and Shack lead to Lowerhouse being dismissed for 127. A very good start.
Haslingden visited Scott St in early May and managed a reasonable total of 201, however 70 n.o. from Jake Hooson, 42 from Nick Barker and 56 n.o. from Umesh saw Walsden home in 42 overs. Next were Milnrow at home who were dismissed for only 35 with Shack and Stevie Barker taking 5 wickets apiece. Mid May saw Walsden have 3 games in a weekend which could is now termed the "Joe Gale Weekend". Joe hit 102 n.o. off 45 balls in the T20 game at Milnrow which Walsden won on Friday evening, he then scored 62 not out in another tough game versus Rochdale on the Saturday before demolishing Formby in the Lancashire Cup on the Sunday with a superb 148 not out off just 92 balls. Rochdale set a challenging 229 in the Saturday game but 43 from Hooson, 59 from Matt Dawson and Joe's match wining knock saw Walsden home off 47 overs.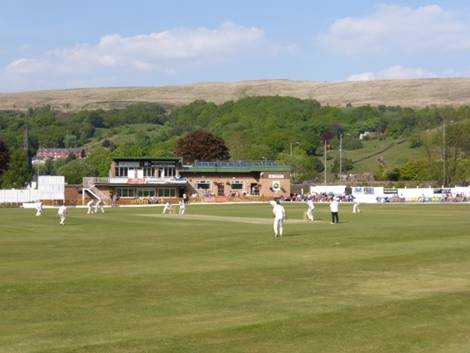 Sunday's game against Formby was all but over at tea time after Joe had dispatched the ball all over the park to help Walsden set Formby 298 off 45 overs. They were dismissed for only 112 with Shack 4 wickets and Umesh 5 making short work of the opposition.
Late May saw Walsden visit the impressive Darwen team in the Worsley Cup. Darwen amassed an excellent 290. Walsden managed 262 in reply with Josh Gale contributing an excellent 98. This was the first of Walsdens 3 defeats in all games (excluding T20) during the entire season. Walsden had a comfortable league win at Enfield the day after, where Enfield scored 184-8. Excellent knocks from Hooson 67n.o., Nick Barker 47 and Umesh 39 n.o. saw Walsden home off 42 overs.
In early June Ramsbotton visited Scott St in another top of the table clash. Walsden were superb in the field and restricted Ramsbotton to 189. Josh Gale and Umesh taking 4 wickets apiece. A superb 106 n.o. from Josh Gale off 122 balls and 45 from Rawlinson saw Walsden home off 44 overs. This win meant that Walsden went to the top of the table where they remained for the rest of the season.
Saturday 9 June was a memorable day at Bacup when Josh Gale scored a punishing 160 off 151 balls which was the highest score by any Walsden amateur in limited overs (passing his brothers record of 148 achieved a few weeks earlier against Formby) and the highest ever score on Bacup's Lanehead ground. A fantastic achievement by a very good cricketer. Walsden amassed 306 with Nick Barker also contributing 79. Umesh and Shack blew Bacup away for 143 with 5 wickets apiece.
An easy win in the Lancashire Cup at home v Greenfield followed before Norden visited Scott St for what traditionally has been a very difficult game. However not this time with Shack taking 5 for 38 in Nordens total of 75. Hooson 29 and Rawlinson 29 n.o. made short work of Norden's total.
22 June 18 was Walsdens first competitive visit to Todmorden in the T20 competition. A large crowd saw Todmorden score 162 with Ben Pearson scoring a very good 85. In a nail biting finish Walsden scored the winning runs off the last ball of the game having lost 8 wickets.
Another large crowd watched Walsden's first visit to Clitheroe on a glorious June day. 64 from Josh Gale and 51 from brother Joe were the main contributors in Walsdens 244-8. Walsden bowled very well to dismiss Clitheroe for 176 with Umesh taking 4 wickets including the key wicket of Pakistan international Fawad Alam.
Next visitors to Scott Street were East Lancs who were dismissed for only 76 with Shackleton bowling superbly to take 6-34. Walsden knocked off the runs for the loss of 3 wickets with Rawlinson top scoring with 38 n.o.
In early July Crompton visited Scott St in the last 16 of the LCF Cup. Walsden scored a useful 238 with Hooson, Nick Barker and Rawlinson all contributing 40 odd. Walsden dismissed Crompton for 127 with the Umesh/Shackleton double act taking the wickets.
Walsden's involvement in the T20 competition ended in the last 8 in early July when a superb 256 by Clitheroe off their 20 overs at Scott St was too much for Walsden to chase down despite 60s from Umesh and Joe Gale, who were eventually dismissed for 190.
Another blistering performance the day after at Colne from Joe Gale with 119 n.o. off only 49 balls and 86 n.o. by Umesh saw Walsden amass 330-4. Colne were dismissed for 162 with Stevie Barker taking 4-28 and Martin Harlow 3-37.
Next on the receiving end were Great Harwood at Scott St when Walsden scored a L L season high of 355-8 (the fourth highest score in LL history) with 102 from Umesh, 76 from Josh Gale and 58 by Matt Dawson. Umesh then took 7-39 (the best professional bowling performance of the season) to dismiss Great Harwood for 182.
Another tricky encounter in late July was at Turf Moor, Burnley where the home team scored a challenging 189 after Shackleton and Harlow had taken 3 wickets apiece. However an excellent 103 no off 111 balls by Nick Barker and 55 from Hooson saw the visitors to their target off 41 overs.
Another very challenging game was Walsdens visit to eventual Liverpool Competition winners Northern CC in the last 8 of the Lancashire Trophy. Another great game ensued which Walsden narrowly lost in the penultimate over. Walsden scored a reasonable 193 off their 45 overs with Umesh scoring an excellent 76 and Josh Gale 43 against a very good Northern attack. At 48-3 Walsden were very much in the game but an excellent 67 no from Northern captain Cole saw Northern home.
Walsden were denied another victory against Littleborough at Scott St by, unusually in 2018, the rain. Walsden scored an excellent 281-6 with Jake Hooson hitting a classy 98 accompanied by Dawson 51 n.o. and Rawlinson 45. Littleborough were 51-1 off 13 overs when the rains intervened to result in a draw.
Another tricky encounter was the visit to Crompton's Glebe Street ground. Walsden were surprisingly invited to bat and another superb 93 from Hooson helped Walsden to 277-7. Crompton were dismissed for 154 with Umesh taking 4 wickets and Hooson 3 capping a fine day for the talented young all rounder.
Perhaps the best game of the season was Todmorden's first league visit to Walsden. Todmorden batted first and scored 176 on a difficult wicket with Umesh taking 5-41. At 20 -4 Walsden were looking like their first league defeat may be on the cards, but 38 from Umesh, 62 from Joe Gale (to win him the man of the match) and a superb late order rear guard just saw them home with Cameron Hanson 14 n.o. and Martin Harlow 16 n.o. scoring the winning runs for the loss of 8 wickets, allowing Walsden to win their first silverware of the season, the Donald Rigg Challenge Trophy presented annually to the winners of this game in loving memory of Donald, Miriam Claxton and David Blake.
Another potential stumbling block was the game at Accrington, where the home side were dismissed for only 108 on a difficult wicket with Shack taking 4-40. However a steady tumble of Walsden wickets meant another nervy finish before Stevie Barker 12 n.o. and a brilliant 57 n.o. from opener Josh Gale guided Walsden home.
The rain affected rearranged first game v Nelson away was the next game in mid August and was again rain affected. Nelson managed 94 -7 off their 23 overs. The runs were chased down quickly with an impressive 42 n.o. from skipper Nick Barker.
In late August 2018 Middleton visited Scott St. A magnificent 132 n.o. off 161 balls from Jake Hooson well supported by Josh Gale 66 and Umesh 41 saw Walsden amass 314-5. Middleton were never in the game with Hooson taking 5-19 in a brilliant all round performance by him to dismiss the opponents for 169.
Going into the last 2 games on the season Walsden needed one win from the last 2 games. Unfortunately the penultimate game was at home against the very good Darwen outfit. Sub pro Lancs skipper Dane Villas top scored with 48 in the visitors 256 with good contributions all round from the rest of the team. At 20-3 Walsden were rocking and despite a battling 59 from Rawlinson and 22 from Hanson, Walsden were never in the hunt and were dismissed for 193 which was their first defeat in the league all season.
This meant that Walsden had to win at Rawtenstall to claim the title and deny Lowerhouse who were only 6 points adrift of Walsden. A superb 106 by Rawtenstall sub pro Powar meant that Walsden needed 184 to clinch the title for Walsden after Umesh had again bowled well to take 6-60. After a nervy start Jake Hooson and Nick Barker steadied the ship. A belligerent 39 off only 22 balls by Joe Gale in fading light with time running out gave Walsden the impetus they needed to gain victory with skipper Nick Barker carrying his bat for a match winning 59 n.o. A very nervy affair for players and spectators alike.
With Walsdens second team also wining the league on the same day a great night of celebration ensued (the seconds also won the Telegraph Trophy). A week later Walsden,s third team also won their league meaning that Walsden were the only club in Lancashire League history to win all three divisions in the same season.
Walsden firsts lost only 1 game all season but were only 6 points clear of the excellent Lowerhouse who were runners up, with Ramsbotton coming third and Lancashire Trophy winners Darwen who were 4th. All four were very good teams.
The first team league win was their 5th league title in the last 7 years and their third on the trot with two Pennine League Premier League Championships now followed by the Lancashire League.
As in previous years the strength in depth of both the batting (with 5 batsmen scoring hundreds) and bowling units, along with the commitment week in week out of this brilliant group of local cricketers was the main reason for this success, as the excellent averages/statistics below illustrate. The fielding and catching was excellent with Cameron Hanson leading the fielding unit by example, whilst Matt Dawson behind the stumps remains the best around.
Remarkably Josh Gale with 817 league runs was the highest run scorer in the entire league (including professionals) whilst Jake Hooson was 4th with 770 runs.
Umesh was the L L leading wicket taker in League games with 71 wickets and Jamie Shackleton 5th on the list with 48 league wickets.
Walsdens first season in the Lancashire League was very enjoyable and everyone is already looking forward to playing in the top division of what should be a very competitive league in 2019.
 Chris Barker October 2018.
STATISTICS RELATING TO THIS GREAT SEASON ARE SHOWN BELOW –
WALSDEN CC FIRST X1 BATTING (includes Worsley Cup & LCB trophy – excl T20)
| | | | | | |
| --- | --- | --- | --- | --- | --- |
| NAME | INS | NO | H/S | RUNS | AVE |
| Umesh Karunaratne | 24 | 10 | 102 | 824 | 58.86 |
| Joe Gale | 17 | 4 | 148 no | 602 | 46.31 |
| Josh Gale | 27 | 2 | 160 | 1042 | 41.68 |
| Stevie Barker | 12 | 8 | 37 | 155 | 38.75 |
| Jake Hooson | 27 | 5 | 132 no | 835 | 37.96 |
| Matt Dawson | 12 | 4 | 59 | 256 | 32.00 |
| Nick Barker | 25 | 4 | 103 no | 636 | 30.28 |
| James Rawlinson | 24 | 5 | 59 | 496 | 26.11 |
| Jamie Shackleton | 4 | 3 | 11 no | 21 | 21.00 |
| Cameron Hanson | 7 | 2 | 22 | 91 | 18.20 |
| Martin Harlow | 7 | 4 | 19 | 42 | 14.00 |
| Gareth Branwood | 2 | 1 | 13 no | 13 | 13.00 |
| Junaid Khan | 1 | 0 | 12 | 12 | 12.00 |
WALSDEN CC FIRST X1 BOWLING
| | | | | | |
| --- | --- | --- | --- | --- | --- |
| NAME | OVERS | MAIDENS | RUNS | WKTS | AVE |
| Umesh Karunaratne | 252.5 | 23 | 975 | 83 | 11.75 |
| Jamie Shackleton | 245.1 | 51 | 872 | 61 | 14.3 |
| Jake Hooson | 75.2 | 33 | 299 | 20 | 14.95 |
| Joe Gale | 102.4 | 17 | 414 | 18 | 23.00 |
| Stevie Barker | 193 | 33 | 702 | 28 | 25.07 |
| Martin Harlow | 50.3 | 2 | 269 | 10 | 26.90 |
| Josh Gale | 80 | 4 | 329 | 12 | 27.42 |
| Nick Barker | 9.4 | 2 | 57 | 5 | 11.40 |
| Shakir Hussain | 3 | 0 | 19 | 0 | – |